Vibracart Paypal - Drop in replacement cart
Our classic Vibracart Paypal is still developed and supported. However we recommend new users to checkout out Vibracart Pro which allows you to sell both downloads and physical products with ease.
What is Vibracart Paypal?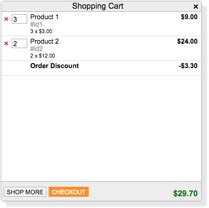 If you use Paypal buttons on your site then get rid of that cumbersome cart page that opens in a new window on each button click and replace it with Vibracart Paypal. Vibracart can hover above or be embedded in your page keeping your clients on your site until they are ready to checkout. Your clients will love the new cart that works so much faster and smoother using AJAX. It is easy to add to your site and works with all the features you currently use in your buttons (such as options and tax etc) and of course will work with any number of pages on your site. Vibracart is fully responsive and works well on mobile devices.
Adds more features
As well as improving the cart process Vibracart Paypal adds a number of new features such as discounts, coupon codes and product images. You can require the user to agree to your terms before checkout as well.
Installing Vibracart is easy
Installing Vibracart Paypal is easy. If you currently use normal Paypal buttons (not Paypal hosted or encrypted ones) then you just need to add a few lines to each page where your buttons appear. If you have used Paypal hosted buttons then you can simply update them using Paypal's own button maker. Full instructions are provided in the comprehensive manual provided.
Works great with Linklok Paypal
If you sell downloads then you can use
Linklok Paypal
with Vibracart Paypal to securely automate the delivery of your links after payment. We currently have a special bundle price if you buy both.
Try out the examples
Vibracart Paypal can be used in several ways so we have setup a few demo pages so you can see how it works.
Popup (hovering) cart mode
This is the default style using a small widget that hovers above your page and a full cart that appears automatically when anything is added to the cart.
see demo
Embedded cart mode
Vibracart can be embedded within your page design instead of using a popup cart.
see demo
Embedded mini cart mode
This mode is similar to the popup cart except that instead of using the widget you can embed the cart total, number of items and links to display the cart or checkout directly in your page.
see demo
Item images and terms checkbox
Vibracart can display a product image next to each item in the cart. It can also force a user to agree to your terms before checkout is allowed.
see demo
Discounts and Coupons
Vibracart supports cart wide and item based discounts and coupon codes.
see demo
Wimpy player integration
Vibracart can be integrated with Wimpy Player allowing it's Buy It buttons to add items to Vibracart. We have used the popup cart mode in this example but the other modes work just as well with Wimpy Player.
see demo
Overview Screencast
If you prefer click here to view this video in YouTube (captions available).

Feature List
Linklok Paypal has a huge number of features including those listed here. You can download the comprehensive PDF manual for full details.
Simple to install into any page (doesn't need to be .php)
Works with existing Paypal buttons (and links) if they are not Paypal hosted and not encrypted. If they are then the buttons can be converted very easily using Paypal's button wizard making them Vibracart Paypal compatible.
Works as either a popup cart (not in a new window) or an embedded cart inserted in your page.
Works seamlessly with Linklok Paypal for automated delivery of downloadable products.
Supports all of Paypal's button features such as options, discounts and weight calculations.
Fully responsive and works well on mobile devices
Cart works across any number of pages on your site.
Total cost, number of items in cart and links to display the cart and checkout can be displayed anywhere on your page.
Cart wide and item based discounts and coupon codes support
Cart can display an image for each item simply by adding a line to your Paypal buttons.
Optionally link to your terms and conditions and require buyers to agree to them before checkout.
Optionally limit how many items can be added to the cart (item and cart limit). Useful if you sell downloads and don't need the quantity field.
Cart items can link back to the product page on your site
Wimpy Player compatible. Buy buttons in Wimpy player will add items to Vibracart Paypal. Combine with Linklok Paypal and you can automatically deliver your mp3 tracks too!
Can integrate with Sitelok allowing member discounts to be setup
There is a special version of Vibracart available for the WYSIWYG Web Builder available from lucknowwebs.com
Detailed PDF manual and great support

Want to know more? Why not download the manual so that you can see what Vibracart Paypal can do for you. We provide extensive documentation in PDF format for our products and not just a quick readme text file.
Vibracart Paypal Manual
As well as the manual you can check our
knowledge base
and of course direct support.
Linklok works on most Linux or Windows servers whether shared or dedicated. Just check that the server has PHP 5.5 to PHP 8.1 (most do). We can recommend
A2 Hosting
for use with our website scripts but most hosting plans are fine. We advise clients to download and read the manual before purchasing.
Please note that closed web creator sites like Wix, Weebly etc
are not supported
as they do not allow addons to be used.
I use this script to sell files that are instantly available to download after payment through Paypal. It is a well priced script, well thought out and documented. The product support that Adrian provided was 'bar none'. I couldn't be more pleased.

see more testimonials
I got to tell you, you have the greatest and most responsive tech support I have seen. Keep up the great work.

see more testimonials
I bought the Vibracart PayPal last evening.  First of all, let me tell you that this script was the easiest script I have EVER installed.  Literally, 5 minutes after downloading it, I had it uploaded and functioning!  This was also a function of the Manual you have prepared.  It was very well written in a step-by-step manner.  I then played with the CSS to restyle it to match the rest of my website.  That took another 5 minutes. I then created some custom button images using my website's color scheme and I was done! 

see more testimonials
Buy Vibracart Paypal V3.1
Vibracart Paypal costs
just $29.95
plus VAT where applicable (for use on one domain) and is available for immediate download after purchase. It's a one off fee and not a subscription. The purchase includes one year of free upgrades and support. If in the future you require additional licenses these are available at a discount of 50% (contact us for details). If you would like more information on Vibracart Paypal, please feel free to get in touch through our
contact page
, where we will be more than happy to assist you with your query.
Buy Vibracart Paypal & Linklok Paypal
We currently have a special bundle price if you purchase Vibracart Paypal and
Linklok Paypal
together. The bundle costs
just $44.95
plus VAT where applicable
saving 25%
.
Cookies
Like a lot of websites, vibralogix.com uses cookies to enhance your browsing experience and handle things like the shopping cart and client only areas. If you continue to use our site we will assume you have given your consent. For more information please see our
privacy policy
.