Vibracart Pro - Sell digital & physical products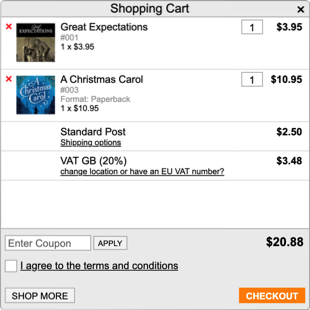 We have combined the best features of Linklok Paypal and Vibracart Paypal, added support for Stripe and mixed in many new features to create Vibracart Pro. Vibracart Pro is perfect for selling digital items (downloads, serial numbers etc) as well as physical products. A powerful control panel allows you to configure all of the settings and access orders, products, discounts and coupon codes. Tax and Shipping are also supported. A built in receipt / invoice system provides buyers with an on screen and downloadable PDF receipt.
We have a special version of Vibracart Pro just for Rapidweaver users. This includes the same Vibracart Pro along with a set of Rapidweaver stacks for easy drag and drop installation and setup.
We have a Wordpress plugin that allows you to easily use Vibracart Pro on your site. The plugin is available free to licensed users. Please note that you still need to have Vibracart Pro installed on your server in the usual way before using the plugin.
Try out the examples
Vibracart Pro can be used in several ways so we have setup a few demo pages so you can see how it works.
Popup (hovering) cart mode
This is the default style using a small widget that hovers above your page and a full cart that appears automatically when anything is added to the cart.
see demo
Embedded cart mode
Vibracart Pro can be embedded within your page design instead of using a popup cart.
see demo
Mini cart mode
This mode is similar to the popup cart except that instead of using the widget you can embed the cart total, number of items and links to display the cart or checkout directly in your page.
see demo
Wimpy Player integration
Vibracart Pro integrates well with Wimpy Player allowing it's Buy buttons to add items to the cart.
see demo
Use your own product pages or an automated Store Front
Vibracart Pro was primarily designed as a freeform shopping system allowing you to place Add to Cart buttons on your existing pages. From V2.0 we have also added a simple Store Front option so you can get selling quicker than ever.
Store Front Page
This sortable and searchable page (with pagination controls) automatically displays your products in a stylable responsive grid. Each product can include an image, description, price and an add to cart button. The description field uses an HTML editor so can be styled as required. Products can have a 'More Information' button linking to existing product pages or a product template page. Optional stock and discount information can be included too. The grid can be added to your page design thus keeping any navigation, headers and footers etc.
This image opposite shows part of our own Store Front page as an example. You can
see the live page here
(opens in a new window).
Product Template Page
As mentioned the Store From page can link to your own existing product pages or can point to a product template. This template is a page that can show product information about any product when linked to for the store front. The page can contain the same information as the Store Front entry along with a separate full description field that uses an HTML editor. This allows you to add images, videos and other content as required. The product template keeps any navigation, headers and footers etc that your site uses.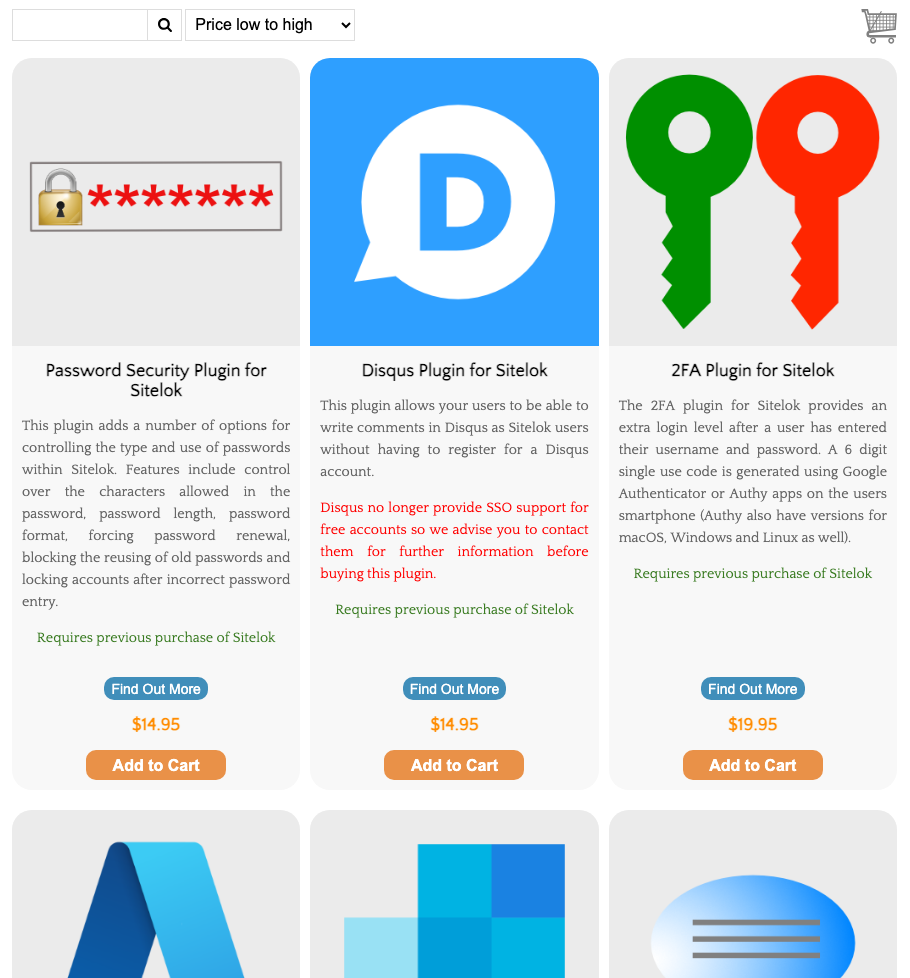 Try the Vibracart Pro dashboard
Vibracart Pro has a fully featured and easy to use control panel where orders can be viewed, products and discounts set up etc.
To access the demo Vibracart Pro control panel
click here
and login as
admin
/
letmein
Please note that as this is processing demo orders from real users we have replaced things like emails and IP addresses with dummies for privacy. The dashboard also doesn't allow any setting changes to be saved.
Dashboard screenshots (click to zoom)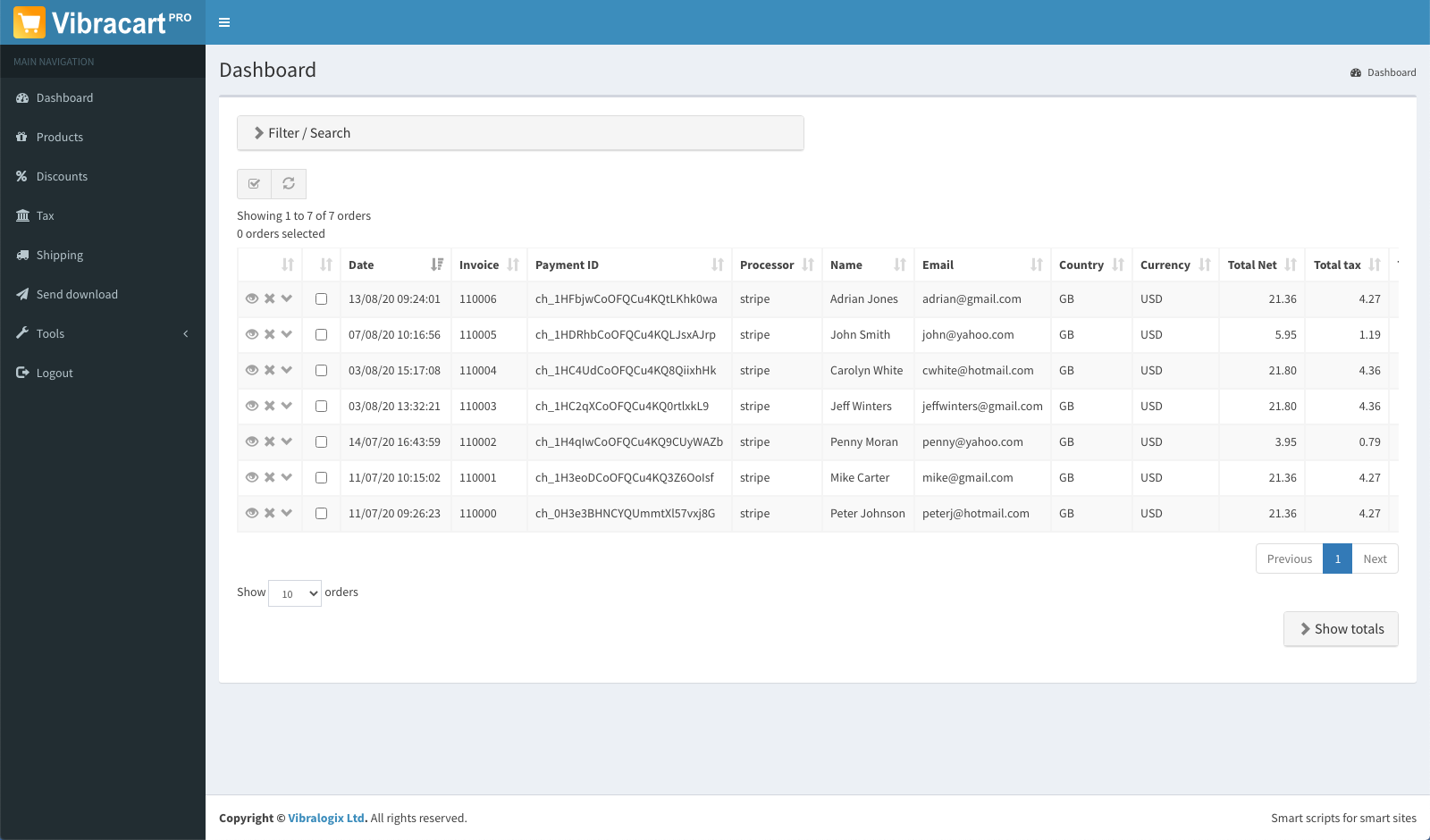 Orders
All orders are listed and can be searched or sorted as needed.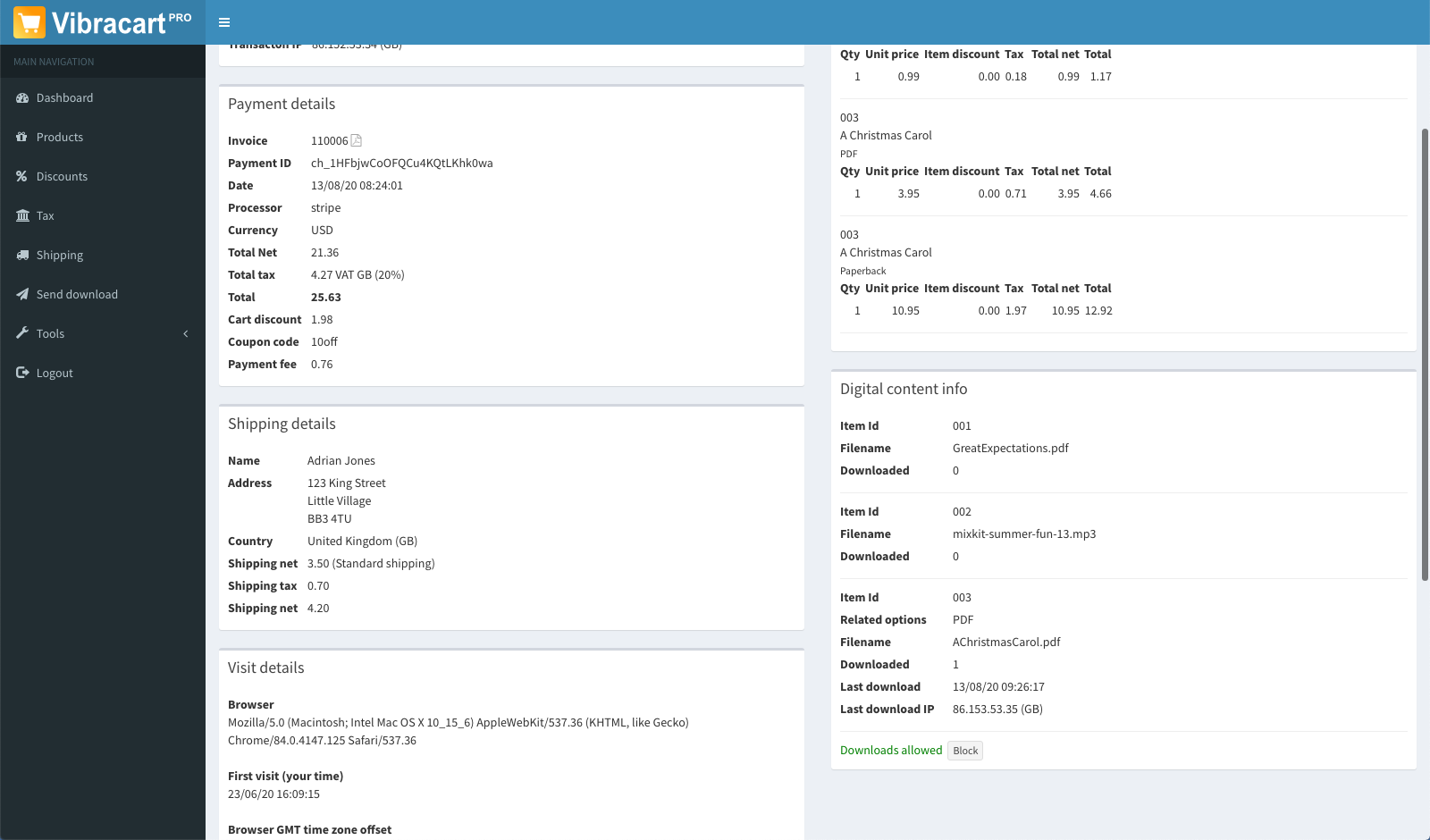 Order detail
You can view the full order details including whether files have been downloaded and where.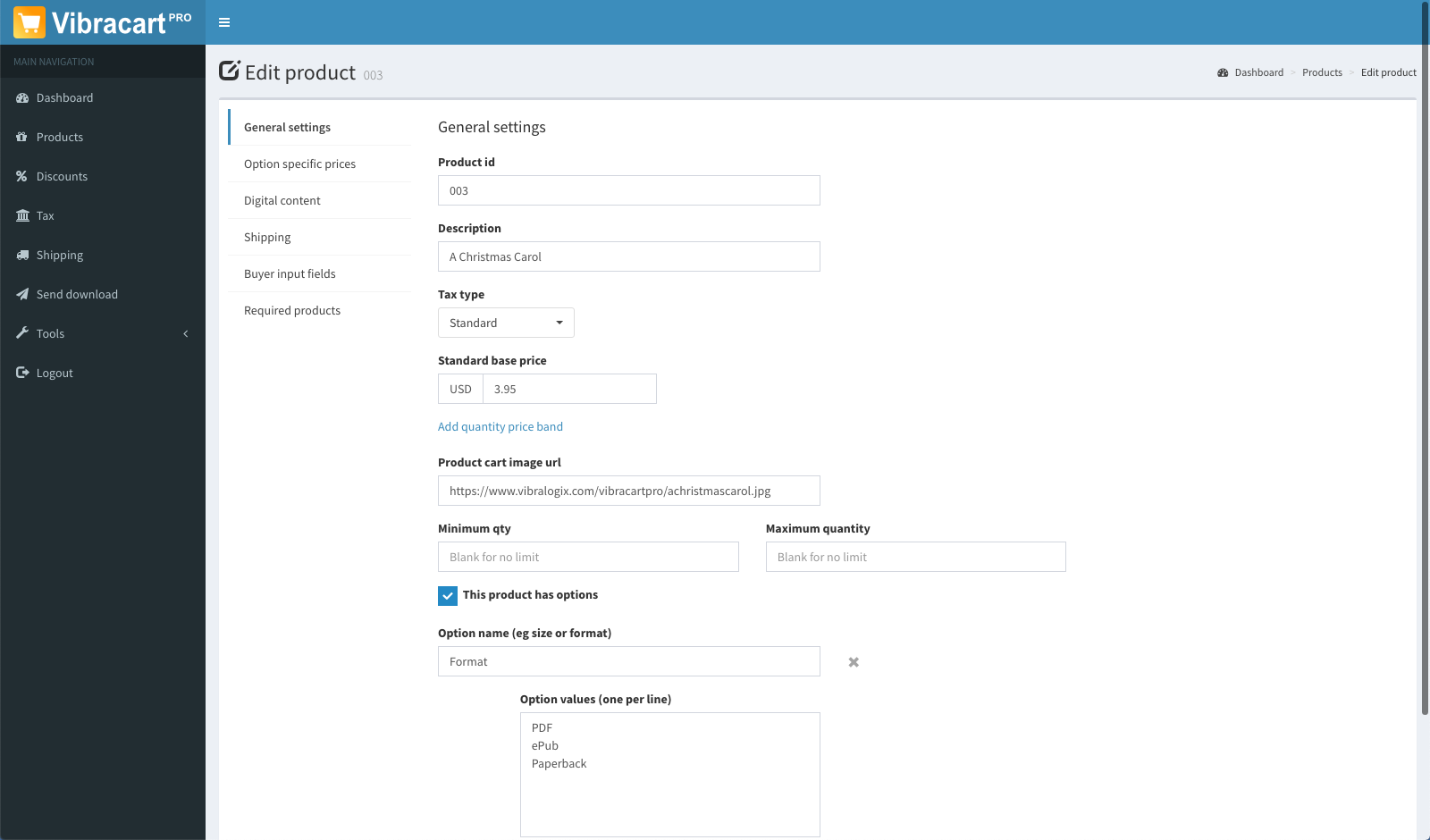 Product setup
Each product can have multiple purchase options, digital delivery (downloads etc), shipping overrides and many other settings.
Feature List
Vibracart Pro has a huge number of features including those listed here. You can download the comprehensive PDF manual for full details.
Simple to install into any page (doesn't need to be .php). Works across any number of pages on your site.
Fully responsive and works great on mobile devices.
Works as either a popup cart or an embedded cart inserted in your page. Works with Wimpy player too.
A floating widget or mini cart on your pages can display the cart total and number of items along with a show cart button.
Easily change the colour and style to match your site.
Paypal and / or Stripe are supported for checkout. Optionally you can use external payments (invoicing only).
Can handle delivery of digital items (downloads, serial numbers etc) and physical items. The thank you page can use a page on your site so it matches perfectly. Download links etc are inserted automatically depending on the products purchased.
Cart wide and item based discounts and coupon code support. Coupon codes can have usage limits if required (for example single use).
Multiple shipping plans supported. Shipping can be calculated based on totals, shipping units or number of items etc. Digital products can be set to be ignored for shipping calculation too.
Tax can be applied based on country (e.g. EU) , US state or Canadian province. Location detected using GEO IP but allowing buyer to set their location manually if you allow it.
This product includes GeoLite2 data created by MaxMind, available from
https://www.maxmind.com
Support for checking EU VAT numbers (to remove VAT).
Cart can display an image for each item.
Cart items can link back to the product page on your site.
Optionally link to your terms and conditions and require buyers to agree to them before checkout.
Optionally limit how many items can be added to the cart (item and cart limit). Useful if you sell downloads and don't need the quantity field.
Can send emails using your servers PHP mail, SMTP (PHPmailer) or Sendgrid.
Download products can be stored on your server or externally using Amazon S3, DigitalOcean Spaces, Google Cloud Storage, B2 Cloud or Dropbox.
Download links can have an expiry time and a download limit.
View when download link is used (and where) and also block downloads for specific orders.
Can create and update Sitelok accounts based on products purchased
Receipt / invoice can be displayed to the buyer and downloaded as a PDF.
Support for iDevAffiliate, Shareasale and other affiliate systems.
Stats page shows graphs of sales, top products, coupon use etc.
Works with Mailchimp, Kunaki and Trepstar
Webhook can call services such as Zapier and Integrately for each order.
Automated Store Front page and Product Template page system

New
Detailed PDF manual and great support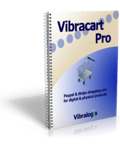 Want to know more? Why not download the manual so that you can see what Vibracart Pro can do for you. We provide extensive documentation in PDF format for our products and not just a quick readme text file.
Vibracart Pro Manual
Vibracart Pro Manual for Rapidweaver
Vibracart Pro works on most Linux or Windows servers whether shared or dedicated. Just check that the server has PHP 5.5 to PHP 8.1 (most do).
To use the Rapidweaver version you will also require Rapidweaver 7 or above and Stacks 3.6.9 or above.
Please note that closed web creator sites like Wix, Weebly etc
are not supported
as they do not allow addons to be used.
Buy Vibracart Pro V2.0
Vibracart Pro costs
just $59.95
plus VAT where applicable (for use on one domain) and is available for immediate download after purchase. It's a one off fee and not a subscription. The purchase includes one year of free upgrades and support. If in the future you require additional licenses these are available at a discount of 50% off the full price. If you would like more information on Vibracart Pro, please feel free to get in touch through our
contact page
, where we will be more than happy to assist you with your query. We advise clients to download and read the manual before purchasing.
Vibracart Pro
Vibracart Pro for Rapidweaver
Sitelok and Vibracart Pro are at the center of my business. I trust them, and know I can rely on them. They are actively maintained and developed. Support is the best I have come across (and I have come across a lot). I use these products every day, and every day I'm amazed at what they enable me to do. They empower my customers to personalise their experiences, access resources and buy new services. I win business and keep customers because of Sitelok and Vibracart Pro. Thank you so much!

see more testimonials
Well...i have to say it's been great, adding a product is amazing the options work a treat! it's easy to not only create one but also add options to them, it can be done in literally seconds. We've just launched a product with different colour ranges and it was seconds before it went live on the site. I am absolutely stunned with its performance. It's incredible. The admin interface is intuitive and fast and I would highly recommend it to anyone. The extensive customization features are an absolute must for integration and anyone thinking of purchasing vibracart pro should not think about it, they should get it straight away. It's sped up our product listings and checkout process so much! We spend less time listing products and more on making them!

see more testimonials
Cookies
Like a lot of websites, vibralogix.com uses cookies to enhance your browsing experience and handle things like the shopping cart and client only areas. If you continue to use our site we will assume you have given your consent. For more information please see our
privacy policy
.