21 11 11 14:15
We have released Vibracart Paypal V1.6 with support for cart wide and item based discounts and coupon codes. This flexible system provides a number of discount types such as discounts on orders over a certain amount, item discounts for multiple quantities, discounts on groups of items or on items purchased together. Each discount type can be tied to a required coupon code as well.
17 11 11 14:15
We have released a Sitelok plugin supporting our new hardware OTP Tokens. The tokens add an extra security layer to the login process. After the username and password have been entered the user is also required to enter a hardware generated one time password.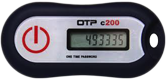 You can assign the OTP Token login method to certain usergroups or specify users as required. For example you could use the tokens to increase the security only for ADMIN users or require that all members use them.
The OTP Token starter kit costs $99.00 and includes the plugin, 2 OTP tokens and shipping. For more information and to download the manual please visit the Sitelok
Plugins
page.
Further OTP tokens are available as well.
1 - 3 $24.95 each + shipping
4 - 10 $19.95 each + shipping
11 - 49 $17.95 each + shipping
100+ Please contact us for pricing